Morella faya syn. Myrica faya
Fire tree
Candleberry myrtle, firebush, faya tree
Family: Myricaceae
Origin: Azores, Madeira and the Canary Islands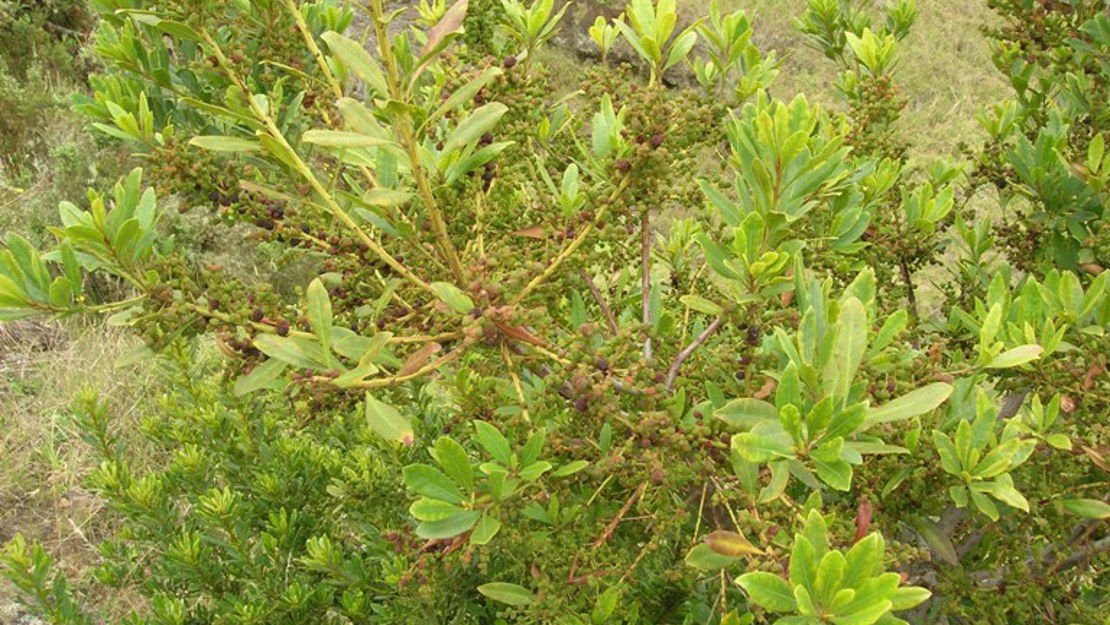 Regional Pest Management Plan (RPMP) status
National Pest Plant Accord Species
Notifiable organism
General description
Evergreen shrub or small tree < 8 m tall. Branches are covered in reddish hairs. Leaves are shiny leathery, narrow, < 11 cm long, alternate and aromatic. Flowers are yellow and borne on a short spike. Fruit is red/purple/black and appears warty.
What you need to know
To help protect our environment:
You must not breed, distribute, release or sell fire tree. As fire tree is a National Pest Plant Accord species, these restrictions apply within the Auckland region and across the whole of New Zealand.
If you see fire tree anywhere, you must report it to Auckland Council at pestfree@aucklandcouncil.govt.nz.
Habitats
Forest, open areas, shrubland, forest margins, lava fields, cliffs, pasture, disturbed sites, roadsides.
Dispersal
Seeds dispersed by birds and other animals.
Impact on environment
Can form dense colonies and displace native species. Nitrogen fixer.
Control
Site Management
Follow up treated areas 3 times per year. Encourage natural regeneration of native plants or replant treated areas where possible after 2-3 treatments to establish dense ground cover and minimise reinvasion.
Recommended approaches
Physical control
Method: Dig out.
Plant parts requiring disposal: All parts.
Disposal options: Remove to greenwaste or landfill if practical.
Biocontrol
Biocontrol is currently not available for this species.
Caution: When using any herbicide or pesticide please read the label thoroughly to ensure that all instructions and safety requirements are followed.