Actinidia spp.
Wild kiwifruit
Family: Actinidiaceae
Origin: Asia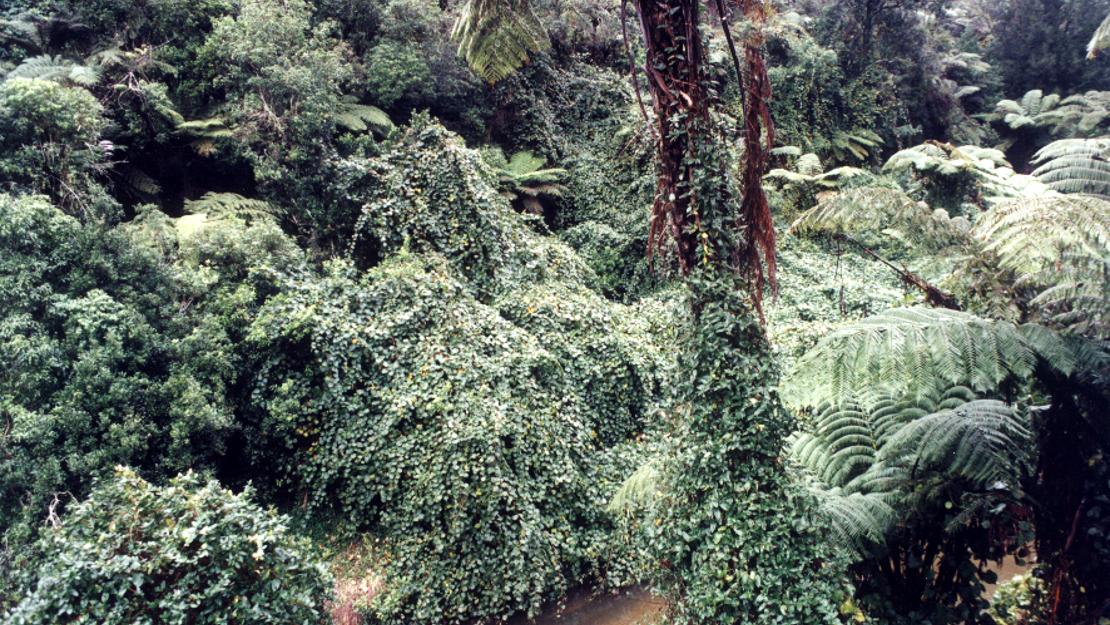 Regional Pest Management Plan (RPMP) status
Whole region — Progressive containment, land occupier rules
Hauraki Gulf Controlled Area Notice pest
General description
Wild kiwifruit is here defined as the wild varieties of Actinidia spp. only. Vigorous, perennial, densely hairy vine. Shoots and petioles are reddish.
Leaves are large and broadly ovate. Flowers are large and white. Fruit is densely hairy, with brown skin and green flesh.
What you need to know
To help protect our environment:
You must control wild kiwifruit on the land you are occupying if it includes abandoned or former kiwifruit orchards.
You must not dispose of kiwifruit in a way that promotes the establishment of wild kiwifruit populations.
If you see wild kiwifruit anywhere in the Auckland region, please report it to Auckland Council at pestfree@aucklandcouncil.govt.nz.
Habitats
Forest, gullies, shelterbelts, scrubland.
Dispersal
Seeds dispersed by birds. Human-mediated dispersal through use as livestock feed and dropping fruit remains once eaten.
Impact on environment
Forms dense blankets, smothering vegetation. Host of Pseudomonas syringae pv. Actinidiae (PSA), a serious pathogen of commercial kiwifruit.
Control
Recommended approaches
Do not attempt to undertake control of this species. Please report to Auckland Council.
Caution: When using any herbicide or pesticide please read the label thoroughly to ensure that all instructions and safety requirements are followed.