Area description
Rangitoto is the youngest and largest of the Tāmaki Makaurau / Auckland volcanoes. The last eruption occurred approximately 600 years ago. 
Rangitoto Island is situated in the Hauraki Gulf and made up of two scenic reserves administered by the Department of Conservation:
Ngā Pona-toru-a-Peretū Scenic Reserve at the summit of the volcano
Rangitoto Scenic Reserve covering the rest of the island.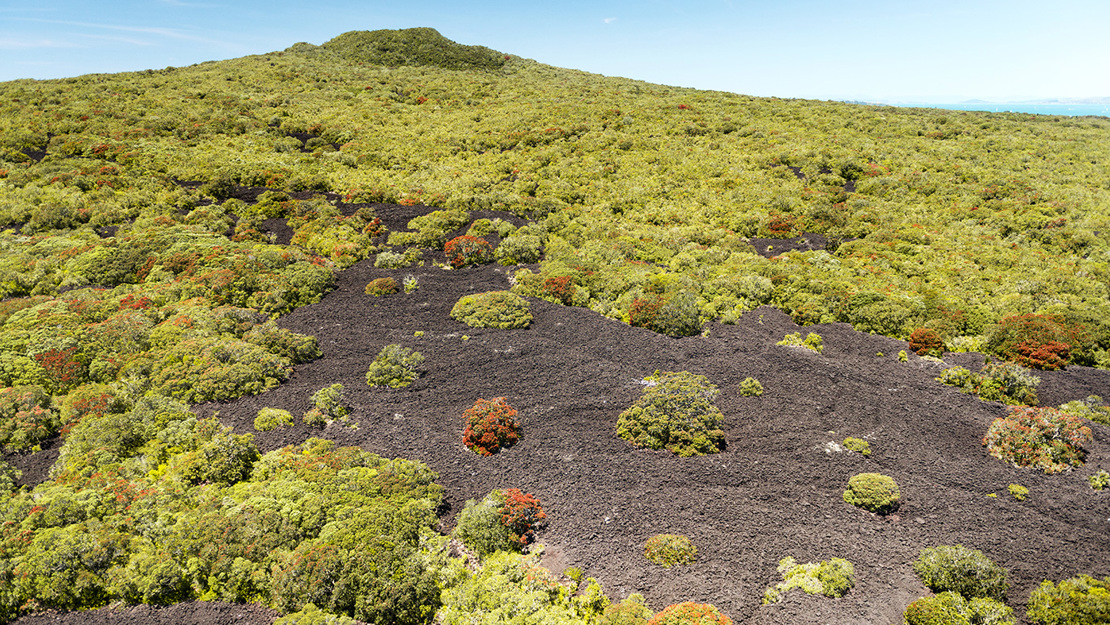 Forest development
Rangitoto Island is internationally significant as a volcanic landform because each stage of vegetation succession is present. This begins with the initial colonisation by plants of the raw basalt and scoria through to the formation of scrub to young coastal forest. 
Despite the seemingly inhospitable conditions for plants, there are more than 200 species of native ferns and flowering plants growing on the island. There are a number of epiphytic species found here (with many of these found at ground level) such as:
perching lilies
coastal astelia
puka. 
There are also many species of mosses and lichens.
Key ecosystems
Rangitoto Island has the largest pōhutukawa forest in the world. The vegetation is almost entirely classified as pōhutukawa scrub or forest (VS1).
There are small pockets in low-lying areas near the base of the hillslopes where soil development has led to faster vegetation succession. Pōhutukawa, pūriri, broadleaved forest/ coastal broadleaved forest (WF4) has established here. 
Around parts of the coastal margin, there is a band of oioi-coastal needle grass on saline margins of lava flows (SA1.7). This is the best regional example of this ecosystem variant which is very uncommon in Tāmaki Makaurau / Auckland.
Conservation
After undergoing a pest eradication programme, Rangitoto and adjoining Motutapu Island were declared pest-free in 2011. This created a safe refuge for threatened native species including:
tīeke (North Island saddleback)
kākā
kākāriki
pōpokatea (whitehead)
korimako (bellbird). 
Ongoing vigilance is required to keep the island pest-free and efforts continue on controlling weeds.