Capra hircus
Feral goat
Family: Bovidae
Origin: Asia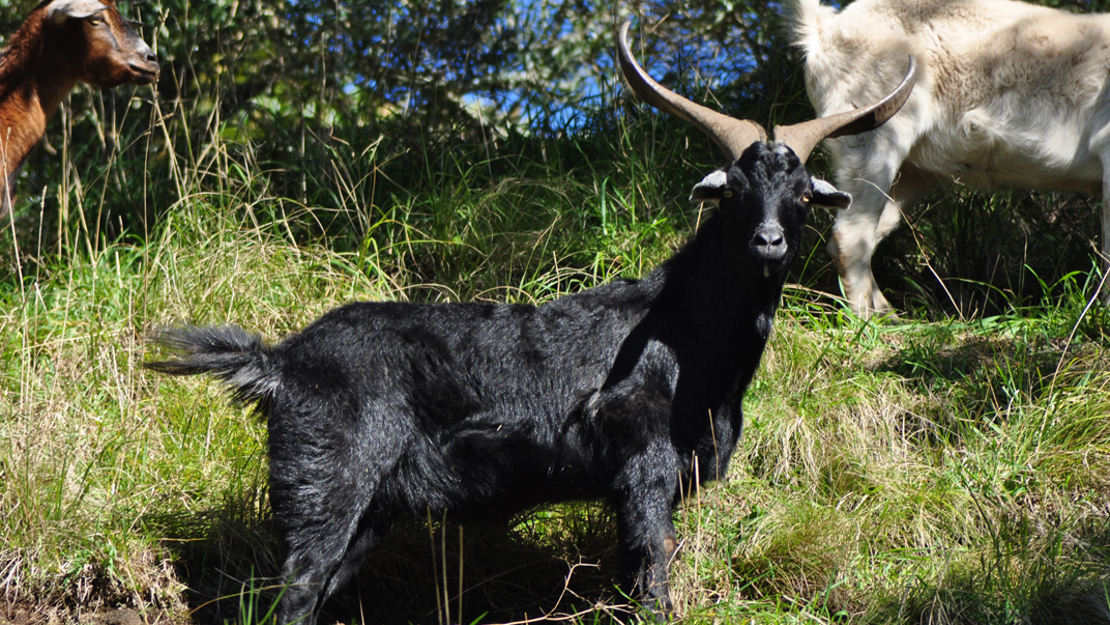 Regional Pest Management Plan (RPMP) status
Hauraki Gulf Controlled Area Notice pest
General description
Even-toed hoofed ungulate, monochromatic or mixture of black, white and brown. Males weigh around 45-55 kg, females around 25-35 kg.
What you need to know
To help protect our environment:
You must not release any goat from containment within the Auckland region.
You must not move, farm or keep any goat on any island within the Hauraki Gulf Controlled Area, or in the Hunua and Waitākere Ranges, unless the goat is a British alpine, toggenburg, Nubian, saanen or sable dairy goat.
If you are farming or keeping goats in accordance with the above rule, you must meet the minimum goat fencing requirement or tether any goat that is not contained within fencing meeting this requirement. Farmed goats in these areas must also be NAIT tagged.
Habitats
Pasture, grassland, scrub, open habitats, forest, rocky outcrops.
Impact on environment
Browsing reduces vegetation cover, density and species richness, prevents regeneration and alters plant community composition in favour of unpalatable species. Can act as a disease reservoir for farmed goats, and cause livestock escapes by damaging fencing.
Control
Management
Auckland Council undertakes feral goat control throughout the region to exclude feral goats from Kohukohunui / Hunua and Te Wao Nui a Tiriwa / Waitākere, and to protect other biodiversity focus areas.
Please refer to the Pest animal control guidelines for information on how to control feral goats, or contact Auckland Council at pestfree@aucklandcouncil.govt.nz.