Jacobaea vulgaris syn. Senecio jacobaea
Ragwort
Tansy ragwort, St James' wort
Family: Asteraceae
Origin: Eurasia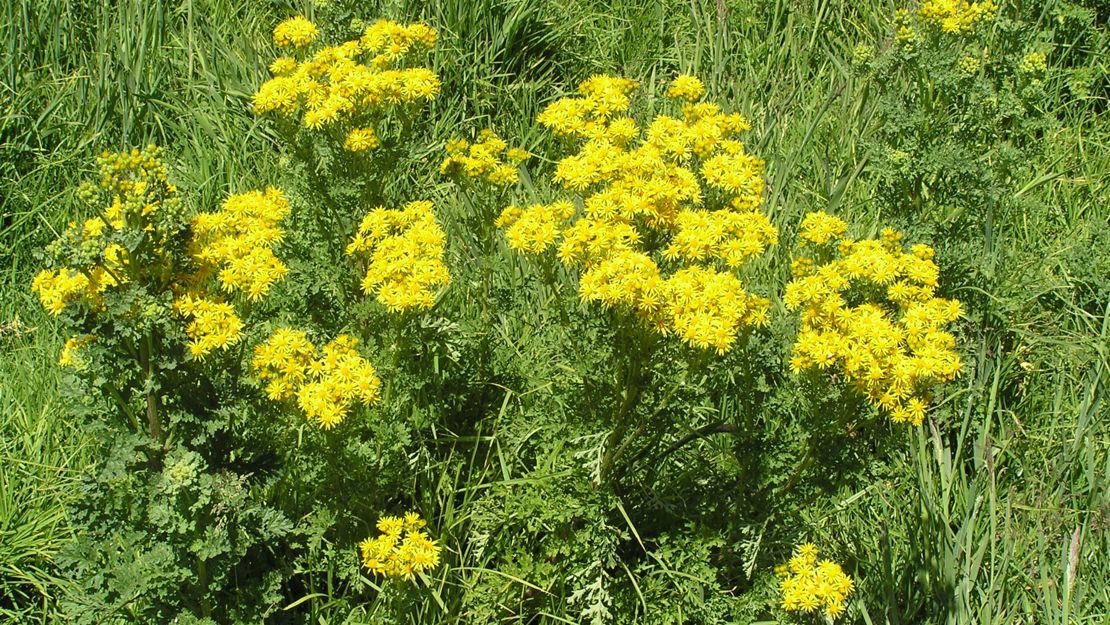 Regional Pest Management Plan (RPMP) status
Hauraki Gulf Controlled Area Notice pest
Whole region — Sustained control
General description
Erect biennial or perennial herb < 60 cm tall. Stems are single or multiple and arise from the crown. Leaves are dark green. Flowers are bright yellow and clustered at the end of branches.
What you need to know
To help protect our environment:
You must not breed, distribute, release or sell ragwort within the Auckland region.
You must not plant ragwort within the Auckland region, unless you are transferring an existing plant on your land to another location within the boundaries of the same property.
You must destroy any ragwort on land that you occupy if it has been planted in breach of the above rules and you are directed to do so by an authorised person.
Habitats
Pasture, wastelands, riverbeds, open forest, swamps, coastal areas.
Dispersal
Seeds dispersed by wind.
Impact on environment
Forms dense stands and may alter invertebrate abundances. Toxic to livestock and can reduce pasture production. Can cause skin irritation and allergies.
Control
Site Management
Consider avoiding spraying ragwort to allow the ragwort flea beetle to establish and control the ragwort population. If you do spray the safest time to control ragwort is the winter months as the larvae are pupating. However, be aware that the less food available the less beetles will survive for the following season.
Recommended approaches
Physical control
Method: Dig or grub out.
Plant parts requiring disposal: Seeds.
Disposal options: Remove to greenwaste or landfill.
Biocontrol
Check for presence of agents:
Ragwort flea beetle ( Longitarsus jacobaeae).
Ragwort crown-boring moth ( Cochylis atricapitana).
Cinnabar moth ( Tyria jacobaeae).
For more information about how biocontrol works, see What is biocontrol?
Community agrichemical control recommendations
No qualifications: Foliar spray rosettes or mature plants with 1g metsulfuron-methyl per 10L of water. This will not kill the ragwort flea beetle.
Certified handler/experienced agrichemical user: Other herbicides are available for use in pasture but these will severely disrupt the population of biocontrol insects
Safety notes
Poisonous to livestock. Can cause skin irritation and allergies.
Caution: When using any herbicide or pesticide please read the label thoroughly to ensure that all instructions and safety requirements are followed.