Site description
The Karekare Dunes biodiversity focus area is at Karekare Beach, on Tāmaki Makaurau / Auckland's west coast. In the last few decades, the dune ecosystem has expanded rapidly from Whatipū to Karekare, as black ironsand, characteristic of the west coast, is transported northwards along the coast. It's then deposited in vast quantities by the prevailing south-westerly swells and currents.
This biodiversity focus area also includes 'The Watchman dacite dome and crater' - the remnants of a large volcanic crater adjacent to the Karekare Stream. This is recognised as an Outstanding Natural Feature in the Auckland Unitary Plan.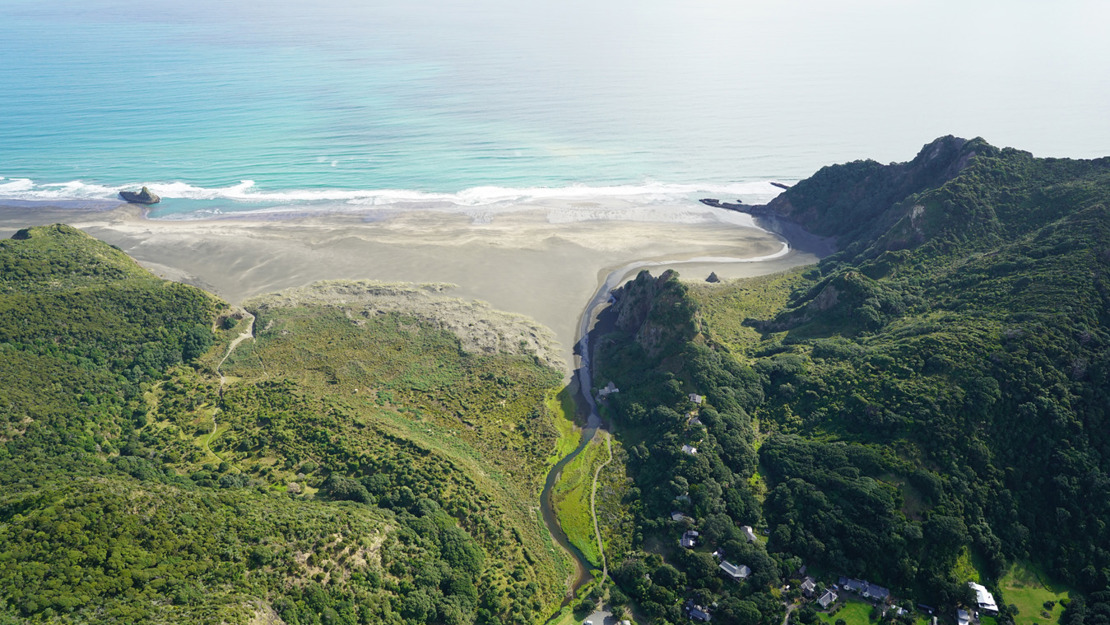 Key ecosystems and vegetation
This biodiversity focus area covers the active part of the sand dunes at Karekare where the plant communities are exposed to constant wind-blown sand and salt spray (DN2). Spinifex and pīngao, two native sand-binding species, are common here. Marram grass and lupin, two exotic species that are also adapted to growing in dune environments are also found growing in these dunes.
Sand dune ecosystems are an integral part of New Zealand's coasts, but have been significantly impacted by coastal development, agriculture and weeds. They are identified as a national priority for protection. In Tāmaki Makaurau / Auckland, the spinifex, pīngao grassland or sedgeland dune ecosystem type (DN2), as found within this biodiversity focus area, is ranked as a regionally endangered ecosystem type.
The dunes are surrounded by a steep and almost entirely forest-clad catchment. The vegetation beyond the dunes is a mosaic of coastal forest (WF4), regenerating scrub and forest (VS2 and VS3) and kauri-dominated forest (WF11). Karekare Stream flows through the dunes, separating the large sand dune ecosystem into two parts; with Union Bay to the north and Karekare Beach to the south. Both dune areas are included in this biodiversity focus area.
Native fauna
The Karekare sand dunes and foreshore provides habitat for a number of bird species including:
tūturiwhatu (New Zealand dotterel)
tōrea pango (variable oystercatcher)
pīhoihoi (New Zealand pipit)
karoro (Southern black-backed gulls)
tern species
shag species.
Community conservation
Community volunteers are dedicated to protecting and enhancing biodiversity values at Karekare. Their work includes animal pest control and monitoring, pest plant control and beach clean-ups.